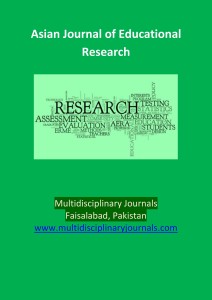 Asian Journal of Educational Research (AJER), ISSN 2311-6080, is a bimonthly peer-reviewed research journal published by Multidisciplinary Journals. For this journal we would welcome manuscripts in the following areas:
Teaching and Learning, Learning Theories and Teaching Methodologies, Educational Psychology, Philosophy of Education, Sociology of Education, Special Education, Literacy, Primary, Secondary and Higher Education, Educational Management, Leadership and Management, Educational Research, Curriculum and Instruction, Educational Change, Teacher Education, Pre-service and In-service Teacher Education, Teaching Practice and Internship, Professional Development of Teachers, Teacher Educator and Trainer Trainers, Distance Education, Teacher Education through Distance Education, Virtual Education, Investment in Education and all other areas related to educational research.
Manuscripts typed on our article template can be submitted through our website here. Alternatively authors can send papers as an email attachment to: editor@multidisciplinaryjournals.com .
Multidisciplinary Journals
Email:

editor@multidisciplinaryjournals.com