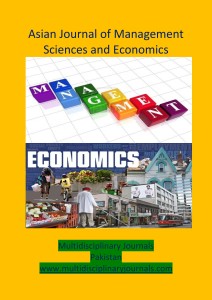 Asian Journal of Management Sciences and Economics (AJMSE) ISSN 2413-0591 is a bi-annual peer-reviewed research journal published by Multidisciplinary Journals. For this journal we would welcome manuscripts in the following areas:
Human Resource Management, Business Management, Financial Management, Organizational Behaviour, Strategic Management, Public Sector Management, Research & Development, Organizational Management, International Management, Project Management, Industrial Management, Marketing Management, Management Theories and Practices, Management Relations, Managers and Lives of Managers, Human, Capital and Resource Management, E-Business, E-Commerce, Entrepreneurship, Financial Management, Marketing, Online Business Management and other areas related to Management Science, Accounting and Finance, Micro and Macro Economics, Development Studies, Micro-Finance, E-Business, E-Commerce, Entrepreneurship, Business Economics, Research & Development, International Development, Economic Issues of Developing and Developed Countries, Policy Studies, Poverty Alleviation, NGOs and Poverty Alleviation, Banking and Finance, Innovations in Business, Investment, Public and Private Sector Investment, Online Business and all other areas related to management and economics.
Manuscripts typed on our article template can be submitted through our website here. Alternatively authors can send papers as an email attachment to: editor@multidisciplinaryjournals.com .
Multidisciplinary Journals
Email:

editor@multidisciplinaryjournals.com